ПОРІВНЯЛЬНИЙ АНАЛІЗ ПІДХОДІВ ДО ОЦІНКИ НАДІЙНОСТІ БУДІВЕЛЬНИХ КОНСТРУКЦІЙ
Ключові слова:
надійність; безвідмовність; імовірнісне моделювання; ефективне проектування; оптимізація проектних рішень
Анотація
Постановка проблеми. Будівельна індустрія на сьогодні − один з основних ідентифікаторів тенденцій в різних галузях життя суспільства. Останнім часом значної актуалізації набули питання оптимізації проектних рішень шляхом використання енерго- і ресурсоощадних технологій і максимального використання ресурсів несної здатності будівельних конструкцій. Для вирішення цих питань необхідне глибоке розуміння поняття надійності і довговічності. Оскільки більшість параметрів несної здатності і навантаження є стохастичними за своєю природою, необхідні механізми їх об'єктивного оцінювання, які постають базою концепції «надійнісного проектування». Наявність таких методик дозволяє проектування будівель і споруд із заданим рівнем надійності і точне оцінювання залишкового ресурсу пошкоджених конструкцій, тобто оптимізує розв'язання інженерних задач широкого діапазону як під час нового будівництва, так і під час реконструкції. Мета роботи − детальний огляд наявних підходів до оцінювання надійності будівельних конструкцій; структурований аналіз еволюції наукової думки в напрямку розуміння стохастичної природи несної здатності конструкцій, окреслення перспективних напрямків експериментальних і теоретичних досліджень цієї проблеми. Висновок. Подальший розвиток концепції «надійнісного проектування» із встановленням цільових рівнів безвідмовності є перспективним, оскільки дозволить отримати ефективні проектні рішення, сприятиме впровадженню ресурсо- й енергоефективних технологій. Актуальним бачиться експериментальне вивчення статистичних характеристик зовнішніх впливів і несної здатності й оптимізація наявних методик імовірнісного моделювання для отримання універсального аналітичного апарату оцінювання надійності.
Посилання
Blikharskyy Ya.Z. and Kopiika N.S. Doslidzhennia poshkodzhenykh zalizobetonnykh elementiv, osnovni metody yikh vidnovlennia ta pidsylennia [Research work on damaged reinforced concrete elements and their possible strengthening methods]. Resursoekonomni materialy, konstruktsii, budivli ta sporudy [Resource-saving Materials, Structures, Buildings and Structures]. Rivne, 2019, no. 37, pp. 316−322. (in Ukrainian).
Bolotyn V.V. Prymenenye metodov teoryy veroiatnostei y teoryy nadezhnosty v raschetakh sooruzhenyi : monohrafyia [Application of methods of probability theory and theory of reliability in the calculations of structures : monograph]. Moscow : Stroiyzdat Publ., 1971, 255 p. (in Russian).
DBN V.1.2-14:2018. Zahalni pryntsypy zabezpechennia nadiinosti ta konstruktyvnoi bezpeky budivel i sporud [General principles for reliability and constructive safety ensuring of buildings and civil engineering works]. Publ. offic. Kyiv : Minregion of Ukraine, 2018, 33 p. (State Building Norms of Ukraine). (in Ukrainian).
Kinash R.I. Metody normuvannia tymchasovykh navantazhen ta otsiniuvannia nadiinosti budivelnykh konstruktsii za umov nepovnoi informatsii : dys. d-ra tekhn. nauk [Methods of normalization of temporary loads and evaluation of the reliability of building structures in terms of incomplete information : dis. thesis]. Kyiv, 2000, 530 p. (in Ukrainian).
Kushchenko V.N. Osnovnыe pryntsypy obespechenyia bezopasnosty stroytelnykh konstruktsyi [Basic principles for ensuring the safety of building structures]. Metallycheskye konstruktsyy [Metal Structures]. Makeevka : Izd-vo DonNASA, 2009, vol. 15, no. 2, pp. 147–155. (in Russian).
Lantukh-Liashchenko A.Y. Razvytye ydei nadezhnosty v stroytelnoi otrasly [Development of ideas for reliability in the construction industry]. Promyslove budivnytstvo ta inzhenerni sporudy [Industrial Construction and Engineering Structures]. Kyiv, 2015, no. 1, pp. 2–8. (in Russian).
Lantukh-Liashchenko A.I. Ievrokod – novyi pidkhid v proektuvanni mostiv [Eurocode – a new approach in bridge design]. Avtomobilni dorohy i dorozhne budivnytstvo [Roads and road construction]. Kyiv, 2013, iss. 88, pp. 277−288. (in Ukrainian).
Lobodanov M.M., Vehera P.I. and Blikharskyi Z.Ya. Analiz vplyvu osnovnykh vydiv defektiv ta poshkodzhen na nesuchu zdatnist zalizobetonnykh elementiv [Analysis of the influence of the main types of defects and damages on the bearing capacity of reinforced concrete elements]. Visnyk Natsionalnoho universytetu Lvivska politekhnika. Teoriia i praktyka budivnytstva [Bulletin of the National University of Lviv Polytechnic. Theory and practice of construction]. Lviv, 2018, no. 888, pp. 93−100. (in Ukrainian).
Pychuhyn S.F. Nadezhnost stalnykh konstruktsyi proyzvodstvennykh zdanyi : monohrafyia [Reliability of steel structures of industrial buildings : monograph]. Moscow : Izd-vo ASV, 2011, 456 p. (in Russian).
Pichuhin S.F. Nadiinist tekhnichnykh system : navch. posib. [Reliability of technical systems : textbook]. Poltava : PDTU, 2000, 157 p. (in Ukrainian).
Posternak O.M. Doslidzhennia vplyvu koiefitsiienta za pryznachenniam na riven nadiinosti pidsylenykh zghynalnykh zalizobetonnykh elementiv елементів [Investigation of the influence of the coefficient on purpose on the level of reliability of reinforced bending reinforced concrete elements]. Mistobuduvannia ta terytorialne planuvannia [Urban and Territorial Planning]. Kyiv, 2015, pp. 431−439. (in Ukrainian).
Pshenychkyna V.A., Bohomolov A.N. and Churakov A. A. Nadezhnost stroytelnykh system : ucheb. posobye [Reliability of building systems : textbook]. Volhohrad : VolhHASU, 2010, 40 p. (in Russian).
Raizer V.D. Teoryia nadezhnosty v stroytelnom proektyrovanyy : monohrafyia [Reliability theory in construction design : monograph]. Moscow : Izd-vo ASV, 1998, 304 p. (in Russian).
Rzhanytsyn A.R. Prymenenye statystycheskykh metodov v raschetakh sooruzhenyi na prochnost y bezopasnost [Application of statistical methods in strength and safety calculations of structures]. Stroytelnaia mekhanyka y raschet sooruzhenyi [Structural Mechanics and Design of Structures]. Moscow, 1952, no. 6, pp. 22–25. (in Russian).
Rzhanytsyn A.R. Teoryia rascheta stroytelnykh konstruktsyi na nadezhnost :monohrafyia [The theory of calculating building structures for reliability : monograph]. Moscow : Stroiyzdat Publ., 1978, 239 p. (in Russian).
Streletskyi N.S. Osnovy statystycheskoho ucheta koeffytsyenta zapasa prochnosty sooruzhenyi [Fundamentals of statistical estimation for the safety factor of structures]. Moscow : Stroiyzdat Publ., 1947, 95 p. (in Russian).
Khotsyalov N.F. Zapasy prochnosty [Safety reserves]. Stroytelnaia promyshlennost [Building Industry]. Moscow, 1929, no. 10, pp. 10–15. (in Russian).
Yatsko F.V. Modeliuvannia i prohnozuvannia dovhovichnosti zalizobetonnykh elementiv transportnykh sporud na avtomobilnykh dorohakh : avtoref. dys. kand. tekhn. nauk [Modeling and forecasting of durability of reinforced concrete elements of transport constructions on highways : Phd thesis]. Kyiv : Nat. transp. un-t, 2015, 20 p.
(in Ukrainian).
Ang A.H.S. and Cornell C.A. Reliability bases of structural safety and design. Journal of the Structural Division. 1974, iss. 100, no. 9, pp. 1755–1769.
Ditlevsen O. and Madsen-Chichester H.O. Structural reliability methods : Monograph. John & Wiley Sons Ltd, 1996, 384 p.
Eurocode EN 1990:2002. Basis of structural design. Brussels : European Committee for Standardization (CEN), 2002, 87 p.
Faber M.H. Basics of structural reliability. Zürich, Switzerland : ETH Swiss Federal Institute of Technology, 2002, 56 p.
Faber M. H. Risk and safety in civil engineering: Lecture Notes. Zürich, Switzerland : ETH Swiss Federal Institute of Technology, 2007, 335 p.
Holický M., Retief J.V., Diamantidis D. and Viljoen C. On standardization of the reliability basis of structural design. In : 12th International Conference on Applications of Statistics and Probability in Civil Engineering, CASP12. Vancouver, Canada, July 12−15, 2015, 8 p.
Holický M. and Sýkora M. Reliability Approaches Affecting the Sustainability of Concrete Structures. Sustainability. 2021, iss. 13, no. 5, p. 2627.
ISO 2394 : 2015. General principles on reliability for structures. ISO/TC 98/SC 2. Reliability of structures. Warszawa, 2015, 111 p.
Jitao Y., Liuzhuo C., Jun G. and Ren X. Structural durability and concept system of structural reliability. In : IOP Conference Series : Earth and Environmental Science. 2019, vol. 304, no. 5, p. 052035.
Mahmoodian M. Structural reliability assessment of corroded offshore pipelines. Australian Journal of Civil Engineering. 2020, pp. 1−11.
Maier M. Die Sicherheit der Bauwerte und ihre Berechning nach Granz kraften statt nach zulassigen Spannungen [The security of the building values and their calculation according to high forces instead of permissible tensions]. Berlin : Springer Verlag, 1926, 150 p. (in German).
Rashki M. Structural reliability reformulation. Structural Safety. 2021, no. 88, p. 102006.
Song J., Kang W.H., Lee Y.J. and Chun J. Structural System Reliability : Overview of Theories and Applications to Optimization. ASCE-ASME Journal of Risk and Uncertainty in Engineering Systems. Part A : Civil Engineering. 2021, iss. 7, no. 2, p. 03121001.
Tang Y., Jiang C., Li Y. The reliability analysis of existing RC member under multifactor mechanism influencing. Journal of disaster prevention and mitigation engineering. 2005, vol. 25, no. 2, pp. 135–139.
Val D., Bljuger F. and Yankelevsky D. Reliability evaluation in nonlinear analysis of reinforced concrete structures. Structural Safety. 1997, vol. 19, no. 2, pp. 203–217.
Wang C. Structural Reliability and Time-Dependent Reliability. Springer, Cham, Switzerland, 2021, 371 p.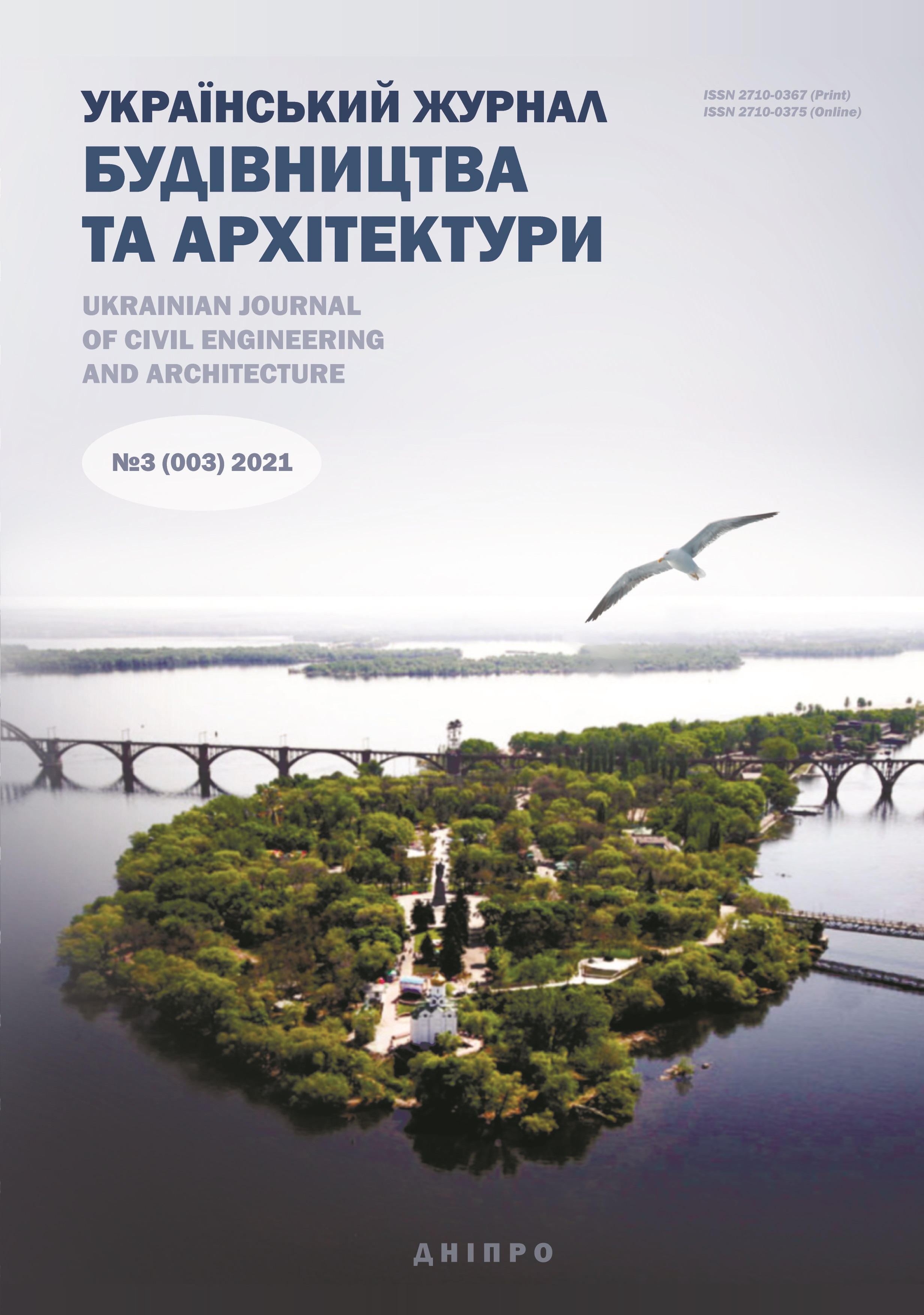 ##submission.downloads##
Ліцензія
Ця робота ліцензується відповідно до Creative Commons Attribution 4.0 International License.